The Dwarf in China
'la vie fait très bien les choses'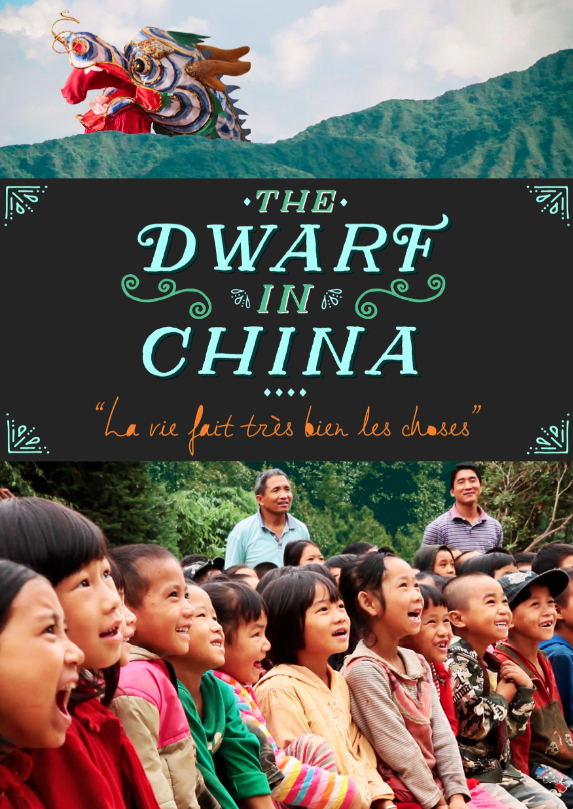 (runtime 52mins)
A dwarf, a dragon, and a golden egg. Yet the real fairy-tale of this film is the journey of Jeanmarie,
the Dutch street performer. In an adventurous project, Jeanmarie teams up with youth worker Frank to travel through the last remaining untouched regions of China, performing his new show to local children. As they transport their wondrous music machine from village to village, they bring laughter and intrigue to all who witness their magical performance, reuniting reality with fantasy, Europe and Asia.
"Woopie wow guys!" A large box is carefully prised open to reveal yet another wooden box, this time a newly-made barrel organ, a wondrously intricate machine that will bring their show to life. Jeanmarie's hands tremble as he carefully feeds the organ music card into the magical mechanism, yet as he turns the handle, the instrument's whimsical flutes breathe into life, and in turn Jeanmarie breathes a sigh of relief. The excitement in his face is palpable: he and Frank are now ready to perform.
The Dwarf in China is a touching insight into the pursuit of magic by two men from the Netherlands in an effort to ward off the sterile harshness of modern reality. This duo of child entertainers, Jeanmarie and Frank, have joined forces in their tour of the mountain regions of China, bringing joy to school children with their delightful show involving a dwarf, a dragon, and a golden egg.
The film offers a tantalising glimpse into life within extremely remote village communities in the Yunnan region, as we gaze through the imaginative eyes of Jeanmarie, experiencing with him the hospitality of the local people. The film creates a dynamic fusion between the two cultures, bringing together two traditions of folklore from Asia and Europe into one universal impression of humanity. As Frank is earlier named "foreign teacher", the concept of foreignness is subtly questioned throughout the film, and replaced by a performance that connects diverse different peoples through a shared sense of "pure enjoyment".
However, this dream-like sense of harmony is forever threatened, as Jeanmarie struggles over "finding the balance between how far you go in dreaming your own reality with respecting the fact that we were born in this world with a number of hard economic facts that keep everyone in a straight-jacket." As their journey continues, their determination to spread wonder to their audiences comes up against many logistical difficulties, yet their belief in creating something special between themselves and the people of China is the resounding message of their magical culture-crossing voyage.
In a film as imaginative and whimsical as Jeanmarie's play itself, this is a poignant tale of passion and conviction to follow and fulfil your dreams.